"We call for the immediate and unconditional release of sixteen (16) leaders and members of Tumandok nga Mangunguma nga Nagapangapin sa Duta kag Kabuhi (TUMANDUK) including six indigenous women and elderly who were red-tagged and illegally arrested by synchronized police and military operations led by the 12th Infantry Battalion of the Philippine Army (IBPA) and Philippine National Police Region 6 in seven barangays in Calinog, Iloilo and ten in Tapaz, Capiz last December 30, 2020," exclaimed by Zenaida Soriano, National Chairperson of Amihan National Federation of Peasant Women in a statement.

Amihan joined the broadening call for their release and hold Duterte primarily accountable fo the political persecution of activists, farmers and indigenous people and state terrorism reigning over our country, oppressing and attacking poor sectors, especially the broad peasantry.  The Tumandok victims of red-tagging, illegal arrest and detention and filing of illegal possession of firearms, ammunitions and explosives were indigenous peasant women: 

1.Marilyn Chiva of Brgy. Garangan, Calinog town in Iloilo, in Tapaz town, Capiz; 
2.Marevic Aguirre of Brgy. Lahug; 
3.Aileen Catamin of Brgy. Tacacayan; 
4.Marilou Sumaria Catamin, 
5.Eleutricia Calbo Caro of Brgy. Roosevelt; and 
6. Jucie Katipunan Caro, of Brgy. Roosevelt,
7. and indigenous peasants Rodolfo Diaz, 
8.Lauriano Castor, Jr., 
9.Benito Caballero of Brgy. Masaroy in Calinog, Iloilo;
10.Welsio Chiva, 
11.Luisito Bautista Sr. of Brgy. Garangan;
12.Rolando Diaz, Sr. of Brgy. Tacacayan, Tapaz; 
13.Rolen Caro Catamin of Brgy. Roosevelt; 
14.Benny Pet Loraña of Brgy. Aglinab; 
15.Ferdinand Caspillo of Brgy. Acuña,  
16. and Carlito Diaz of Brgy. Nayawan. 

"This is an authoritarian act, and we urge the people to condemn this wholesale violation of basic human rights, especially of marginalized sectors in the country.  If these remain unopposed, the whole country would be under the tyranny of Duterte and the freedoms of our children and next generation Filipinos would be threatened," Soriano ended. ###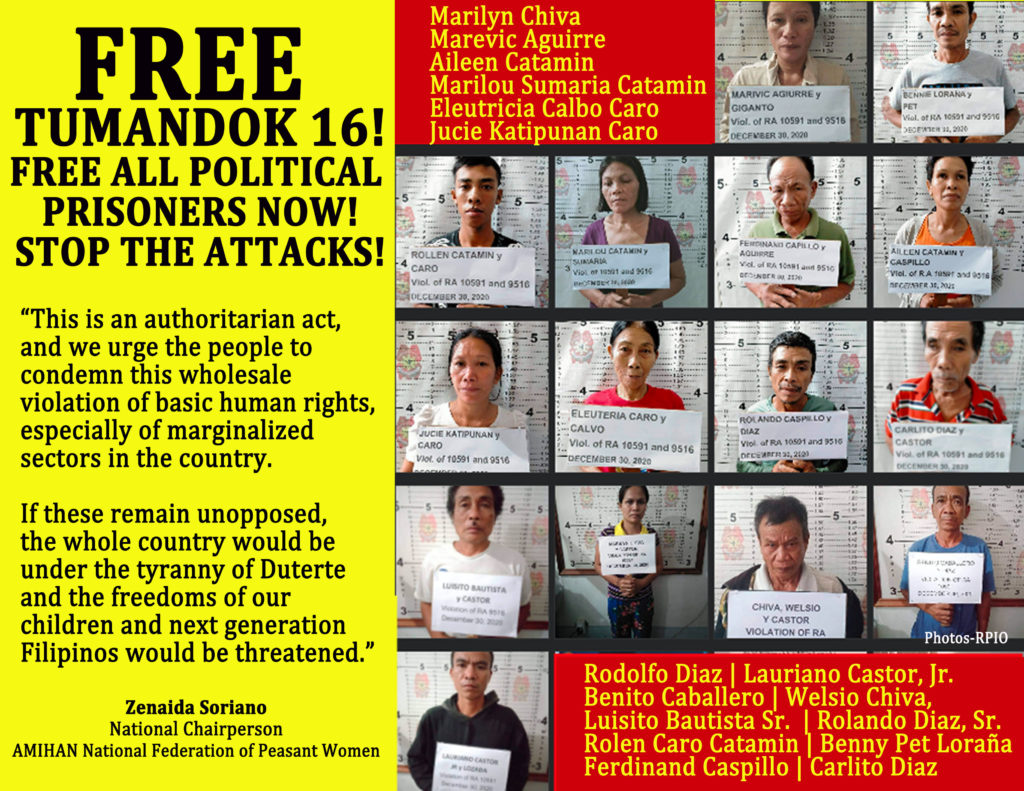 Please follow and like us: