Manila, Philippines – The Amihan National Federation of Peasant Women and Anakpawis Party-list joined the broadening call of various education stakeholders such as teachers, students, parents, and others for a safe school re-opening of classes or "Ligtas na Balik-Paaralan" on September 13. The group joined the multi-sectoral online press conference today led by the Alliance of Concerned Teachers to urge the Duterte regime to have a comprehensive plan on accessibility and quality education amid the pandemic.

Moreover, the peasant women group demanded for gradual face-to-face classes and reiterated that distance learning was discriminatory, incompatible and has put the parents and peasant youth – students into disadvantaged positions.
"This opening of classes, peasant women mothers will face again the problem on their struggles and hardship for their children's distance learning. This exacerbated their already sorry state of surviving the impact of Duterte's lockdown that led to the losses of their livelihood, bankruptcy, and distraught. The sector's demand for gradual face-to-face classes is just and legitimate," exclaimed Cathy Estavillo, Secretary-General of Amihan and Anakpawis Party-list.

Amihan said that this school year, the peasant families who intend to continue the education of their children are left with the option of modular learning. Mothers who usually have low educational attainment lacks confidence in tutoring their children, more so in familiarizing themselves with the lessons issued by the Department of Education. They are also engrossed in farm production, trying to earn an income to put food on the table for their children.

Estavillo, who is also the Secretary-General of the Anakpawis Party-list echoed its call for a #DapatLAPAT solution to the pandemic. It stood for "L – libreng testing at pagpapagamot, A – agarang contact-tracing at genomic surveillance, P – palawakin at pabilisin ang pagbabakuna, A – ayuda sa pag-quarantine at para sa lahat, T – taasan ang kapasidad ng sistemang pangkalusugan." The group is also pushing for the P15,000 production subsidy for agriculture-based sectors and P10,000 social amelioration for urban-based workers.

"Duterte and his syndicate lack the brain to sincerely care for ordinary Filipinos, composed majorly of peasants.  The #DutertePalpak and #DuterteKorap style of governance led to a worsening number of COVID-19 cases, undermined food production, crashed economy, and poverty and hunger of poor sectors.  With this chronic state, Ligtas na Balik-Eskwela more or less means #DuterteWakasanNa, as it is only possible without him," ended by Estavillo. ###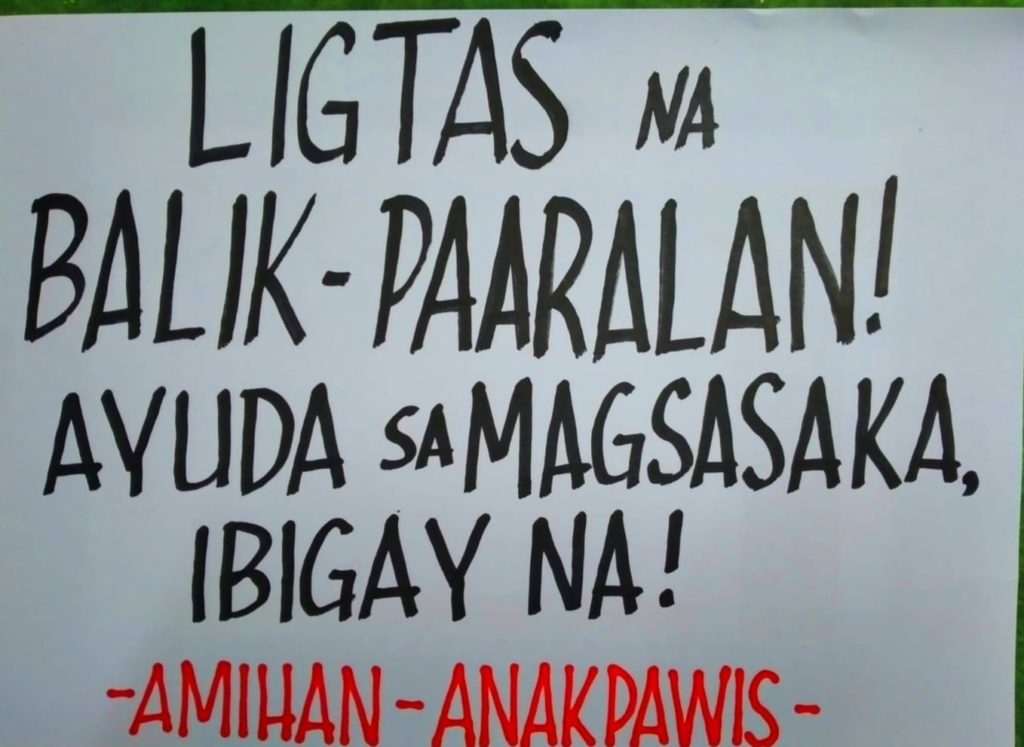 Please follow and like us: