Manila, Philippines – On the 2nd year of implementation of the Memorandum Order 32 or essentially President Rodrigo Duterte's order of attacking activists in Negros island, Eastern Visayas and Bicol, the Amihan National Federation of Peasant Women condemned to mounting rights abuses against peasant communities, primarily carried out by the Armed Forces of the Philippines, Philippine National Police and its para-military agents. The group said that the regime has continued to victimize poor peasants and peasant women, children, agricultural workers, fisherfolk and genuine agrarian reform activists, with extra-judicial killings, filing of trumped up charges, red-tagging and harassments and outright militarization of communities, as part of the counter-insurgency program Oplan Kapanatagan.
"Fascist rule has been always for the interest of ruling classes such as big landlords, compradors and foreign monopoly, controlling vast tracks of land and repressing the peasants' assertion for rights to land and democratic rights. This is driven by the regime's neoliberal policies of opposing genuine agrarian reform and pushing the financialization of land, or alloting them to economic activities which are profit-oriented, at the cost of comprehensive violation of peasants' basic rights," exclaimed by Zenaida Soriano, National Chairperson, Amihan National federation of Peasant Women said in a statement.
According to Kilusang Magbubukid ng Pilipinas, the recent cases of illegal arrest and detention under Memo Order No. 32 happened last November 6, when a farmer was illegally arrested by a member of 94th IBPA in Himamalyan City, Negros; November 13 illegal arrest and detention of 16 peasant including a peasant woman leader and his son, 6 children and 9 farmers in Brgy. Canlampay, Carigara, Leyte; November 17, an elderly farmer was arrested at his house in Guinobatan, Albay and accused him as top-ranking NPA and on November 19, two farmers were illegally arrested again in Himamaylan City in Negros Occidental.
"We urge the broad people to condemn the mounting cases of illlegal arrest and detention of farmers, peasant women, children and agricultural workers in Eastern Visayas, Bicol and Negros island. We join the call for their immediate and unconditional release as they're victims of political persecution under Duterte, " she added.
Amihan stressed that Duterte should be urgently removed from his post, as he is wasting away billions of pesos of taxpayers' money for useless military programs and operations.
"There should be no confusion on whether Duterte could still change his act, when in the past years, he was wreaked havoc on the democratic rights and livelihood of the peasant sector, the very majority population in the country. The limited public funds wasted on the military could have been used to rehabilitate the livelihood of the rural sector from the impact of the regime's inappropriate lockdown policies, liberalization of agriculture and natural calamities. We urge the people to join the call to oust Duterte, to save the country from total destruction brought about by this madman," Soriano ended. ###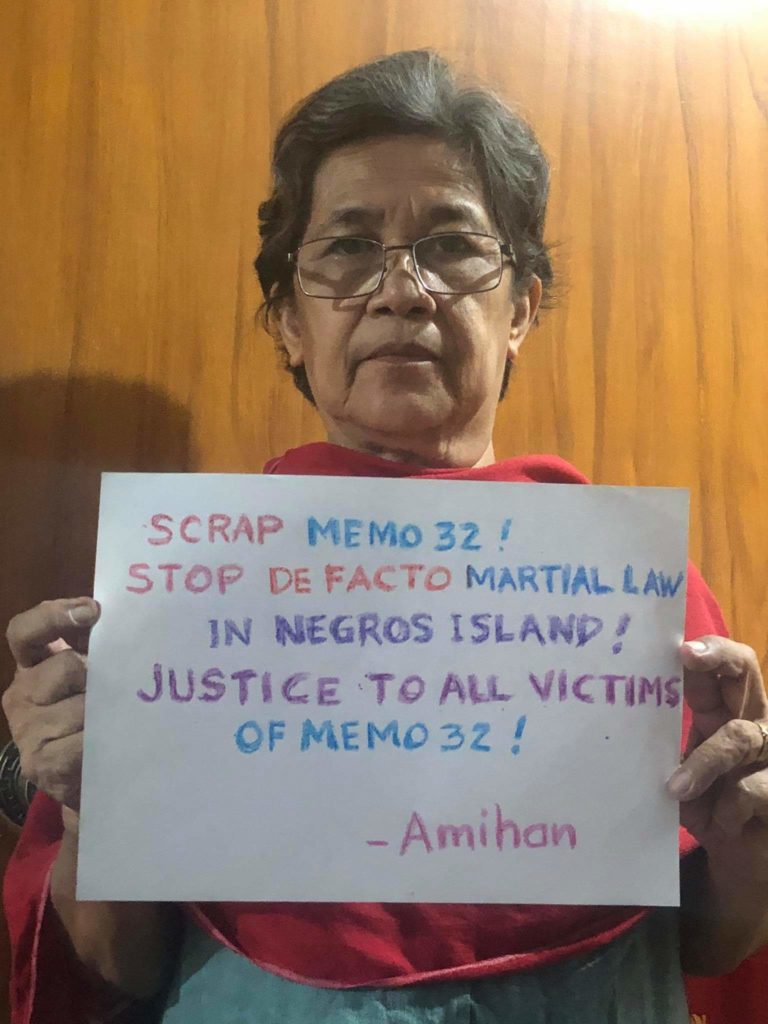 Please follow and like us: