Manila, Philippines – The Amihan or National Federation of Peasant Women expressed grief on the suicide by hanging yesterday of a 19-year old male junior high school student in Brgy. Fidel Surtida, Sto. Domingo town, Albay, reportedly due to worries of high costs of enrollment. It was reported by independent media outfits Baretang Bikolnon and Philippine Examiner. His mother said that the victim worried a lot about the cost of buying load and exorbitant internet charges for his online enrollment. A photo of his mother holding his smartphone inside their farm hut was posted on the Philippine Examiner website.
"This is what we have been warning about, rural families being burdened by the 'distance learning' proposal of the DepEd, which is inappropriate to concrete conditions, insensitive and discriminatory against poor families. This is a suicide induced by the policies of the Duterte government," exclaimed by Zenaida Soriano, Amihan National Chairperson.
She added that as obviously poor families have yet to recover from the losses in livelihood and household incomes, as brought about by the "militarist sans medical response" lockdown in Luzon, the DepEd has carelessly decided to resume classes on August, without the comprehensive investigation of the hardship-stricken situation of poor students in the country.
"The exact meaning of all DepEd blabber about 'distance learning' to poor families is high cost of education, which the agency continues to neglect. Poor families are hounded daily by the dilemma of where to find food for their next meal, and here comes the 'educated but insensitive' officials bragging about a system which is intensive on gadgets and costs. DepEd officials are trying to put a square peg on a round hole," the peasant women leader slammed.
She said that options of 'distance learning,' such as online, modular and radio-television-based, all involve buying gadgets such as laptop computers, smartphones, television sets and transistor radios. On top of these are the cost of internet, electricity and transportation.
Lastly, the Amihan have been monitoring reports from their regional chapters about the online enrollment and about the "distance learning." According to a mother and a peasant women leader from Isabela province, " Alanganin ang pamamaraan ng online, modular, telebisyon, at laptop kase hindi naman pare-pareho ang kalagayan ng bawat pamilya. Hindi ito napaghandaan ng mga bata lalo na dito sa probinsya, marami ang walang alam sa makabagong kagamitan. Sa tingin ko, maraming bata ngayon ang hindi makakakapag-aral dahil sa pinapatupad na ito ng DepEd."
Amihan reiterated its call that the free mass testing to students, teachers and all workers and personnel involved in the education sector should be urgently carried out, as crucial measure towards normalization. ###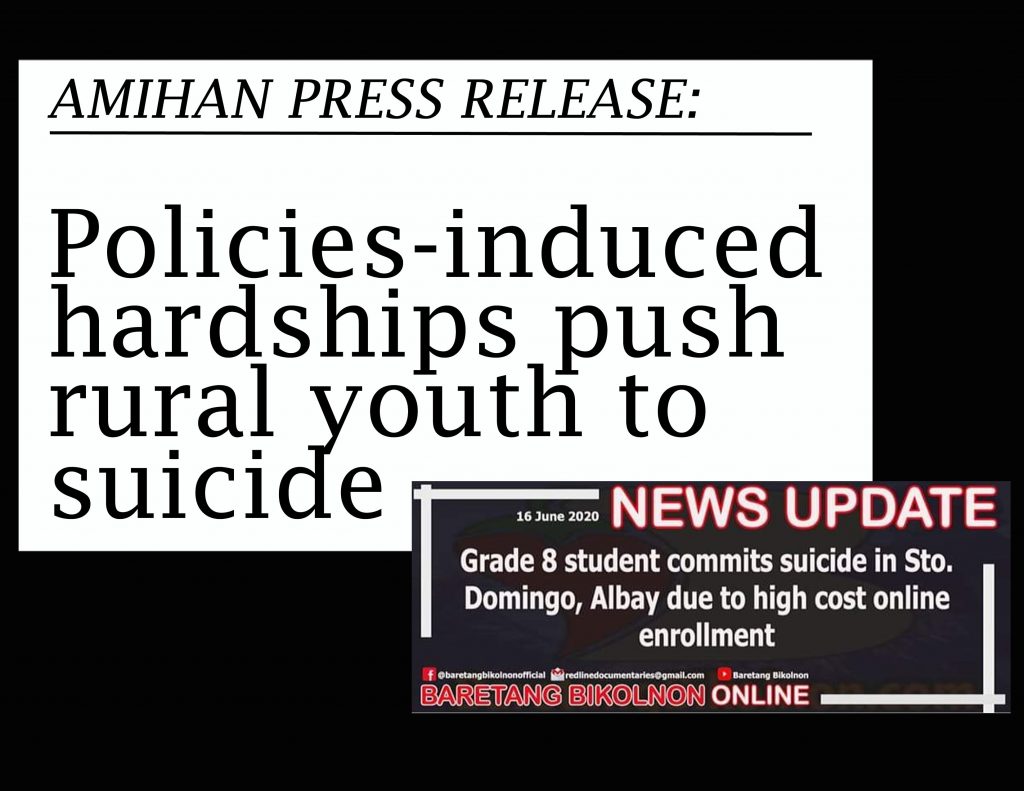 Please follow and like us: