Manila, Philippines – Days after a local unit of the Philippine National Police blundered with a gender insensitive remark and engaged with victim-blaming dictating how women should dress to avoid sexual violence, the Amihan or National Federation of Peasant Women and Rural Women Advocates joined the public in condemning this victim-blaming act. It added that the PNP's anti-women culture such as this will be emboldened once the anti-terrorism bill or the "Terror Bill" becomes into law such as intensified abuses on women and its critics.
"We join the public in condemning the PNP for being insensitive in their indefensible victim-blaming blunder. Kitang kita na peke ang mga training nila ukol sa Violence against Women and Children (VAWC) at lumalabas sa mga aksyon nila ang kawalang sinseridad at respeto sa kababaihan," exclaimed by Zenaida Soriano, Amihan National Chairperson.
Amihan said that in the countryside, the PNPs abuses, exploitation and discrimination was experienced by peasant women. Their presence along with the military men in the barrios has generated abuses such as threats, rape, sexual harassment and others.
"It is very alarming that the PNP continues to fail as a good example of a gender sensitive institution. Nagagawang kundenahin sila ng mamamayan dahil hindi pa ipinapatupad ang 'Terror Bill.' Kapag ipinatupad ito at tinarget na ang mga kritiko, lalong lalakas ang kanilang paglabag sa gender sensitivity," Soriano said.
According to Philippine Commission on Women, an average of 51 VAW cases is committed daily in 2018. Though a decline compared to 2016 and 2017, many VAW cases have not be documented due to various reasons.
Moreover, we join the campaign of Gabriela against abuses and discrimination of women entitled as #LabananAngAbuso.
"The PNP promotes gender insensitivity and Duterte's instrument of violence, thus, the Filipino people especially the women should unite and fight against rights abuses. Likewise,  condemn Duterte's misogyny and tyrannical rule through pushing for the 'Terror Bill', " Soriano ended. ###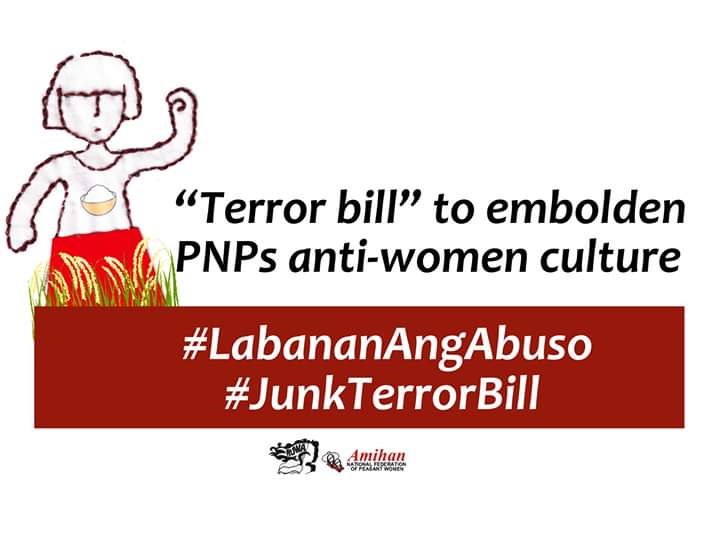 Please follow and like us: