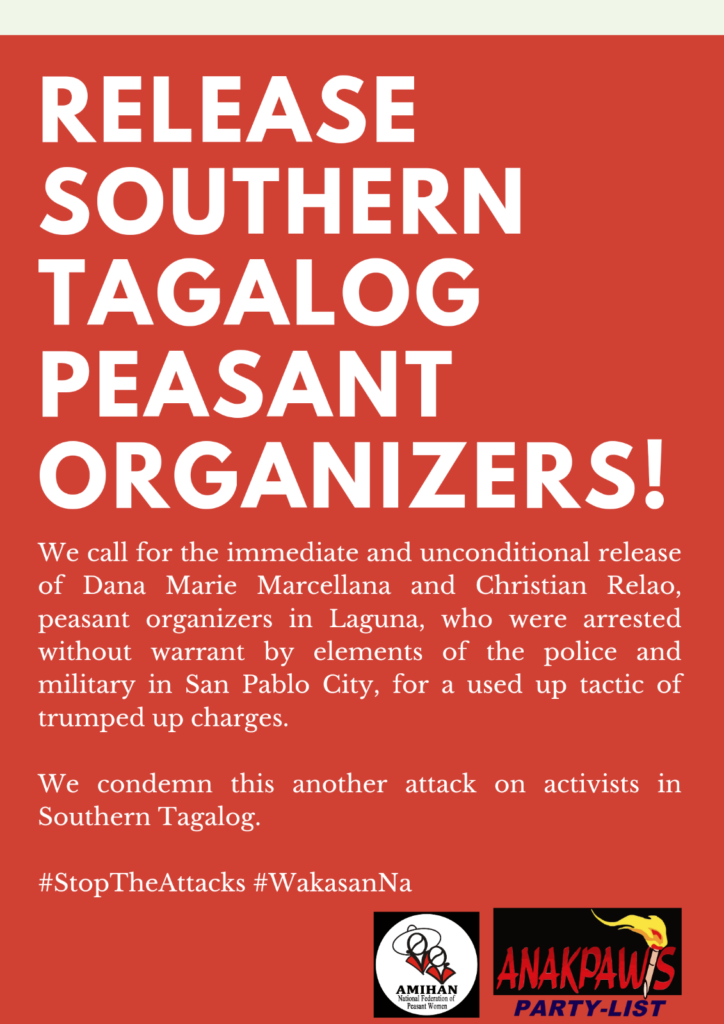 "We call for the immediate and unconditional release of Dana Marie Marcellana and Christian Relao, peasant organizers in Laguna, who were arrested without warrant by elements of the police and military in San Pablo City, for a used up tactic of trumped up charges. We condemn this another attack on activists in Southern Tagalog, and we demand their immediate and unconditional release," exclaimed by Zenaida Soriano, Amihan National Chairperson.
Marcellana is the eldest daughter of the late Eden Marcellana, the human rights defender of Karapatan Timog Katagalugan, who was abducted and killed in Calapan City, Oriental Mindoro on April 23, 2003, by the "bonnet gang" organized of the fascist general and convicted criminal Jovito "The Butcher" Palparan who then led the 204th Infantry Battalion of the Philippine Army. This was when the Gloria Macapagal-Arroyo regime was implementing its counter-insurgency program Oplan Bantay Laya 1. She is also the daughter of Southern Tagalog peasant leader Ordly Marcellana. She, with her partner Relao, are peasant organizers in Laguna, when the arresting force belonging to the PNP Regional Mobile Force Battalion – 4A and units under the Armed Forces of the Philippines raided their house in Brgy. San Diego. They are being accused of trumped up charges such as kidnapping, murder, rebellion and illegal possession of firearms charges.
The Amihan National Federation of Peasant Women and Anakpawis Party-list said that Marcellana is the 64th among peasant women victims of illegal arrest and detention and charged with trumped-up charges under the Duterte government. There are 81 peasant women political prisoners in the country incarcerated in various prison facilities.
"The Marcellana family is known in Southern Tagalog for their utmost service to the marginalized and oppressed sectors in the region. Their dedication to help and uplift the lives of poor farmers and peasant women became a threat for the past and present regimes. Dana and his partner became targets under Duterte regime for organizing peasants in Laguna and Quezon provinces," Ariel Casilao, Natl President of Anakpawis said in a statement.
The victim's father and peasant leader Orly Marcellana, has been a staunch Anakpawis leader in the region, and Relao served as a campaign volunter for Anakpawis during the 2016 elections.
"Ka Eden was a victim of EJK by Palparan, Ka Orly has been red-tagged and harassed for more than a decade, and now their daughter is a victim of political persecution via filing of trumped up charges by the Duterte regime. We join the call for the immediate release of Marcellana and Relao, and the stop to the attacks on activists in Southern Tagalog," Casilao said.
Amihan said in a statement that they will continue their #DefendPeasantWomen campaign against Duterte's extrajudicial killings, illegal arrest and detention, red-tagging and other forms of harassment and vilification of Amihan leaders, members, organizers and peasant women in the country.
Anakpawis called on various sectors to condemn the recent attacks of peasant organizers Marcellana and Relao of KASAMA TK. Helping the poor peasants for land, food and livelihood this pandemic is not a crime. Join us in holding Duterte accountable for the violation of human rights of Dana and Christian and other peasant organizers in the country. ###
Please follow and like us: