Concept paper
"Kami ay nangangamba at nakakatakot na lumabas at pumunta sa mga komunidad dahil hangga't hindi raw kami magpapalinis ng aming mga pangalan. Hindi daw kami titigilan. Wala namang kaming ikinakatakot dahil hindi naman kami NPA. Ang ginagawa lang namin ay tumulong sa mga kababaihang hindi alam ang gagawin kagaya ng panawagang ayuda ngayong pandemya." – Jacqueline Ratin, Chairperson ng AMIHAN-Cagayan at National Vice Chairperosn ng AMIHAN.
DefendPeasantWomen is a campaign of the Amihan National Federation of Peasant Women to fight and resist intensified attacks and human rights violations against peasant women across the country and hold the Duterte regime primarily accountable for the abuses committed by the government armed forces. The said campaign will be joined by Rural Women Advocates (RUWA), Gantala Press, women's organizations, land advocates, students, artists, church people, academe and others.
Peasant women have increasingly become targets of human rights abuses through President Duterte's counter-insurgency policies and programs including Martial Law in Mindanao, Memorandum Order 32 in Negros, Samar and Bicol, Executive Order 70 or the whole-of-nation approach which created the infamous National Task Force to End Local Communist Armed Conflict (NTF ELCAC), and the recent enacted Anti-Terror Law.
Amid surging COVID-19 cases, the Duterte government allocated billions of the nation's budget to military over health and socio-economic sector. This militarist pandemic response resulted to rising rights abuses and attacks against activists, human rights and land rights advocates.

These policies have systematically victimized peasant women asserting their rights to land and livelihood perpetrated by military, police and paramilitary forces. As of July 2021, forty four (44) peasant women were killed while sixty five (65) out of the total eighty two (82) peasant women political prisoners were imprisoned under Duterte. Among them are Genalyn Avelino, Amanda Echanis, Marilyn Chiva, Marevic Aguirre, Aileen Catamin, Marilou Catamin, Eleutricia Caro , Jucie Katipunan Caro, Nona Espinosa, Azucena Garubat, Ma. Lindy Perocho, Imelda Sultan, Moreta Alegre, Marivic Colito, Mylene Colito, Corazon Javier, Armogena Caballero, Margie Baylosis, Merlinda Abraham, Rea Casuyon, Melissa Comiso and others.
Elderly and sick peasant women political prisoners were denied of proper medical attention causing worsened health conditions, or worse, death, such as the case of Adelaida Macusang. Moreover, two newborn babies were separated from their mothers, which led to the tragic death of Baby Carlen.
The cases of violence such as extra-judicial killings, mass killings, illegal arrest and detention, filing of trumped up charges, red-tagging, forced surrender, forcible mass evacuation, food blockade and aerial bombings in farmer communities, have subjected peasant women and children to injustice, agony and misery. Government forces usually occupy civilian establishments in communities such as barangay halls, daycare centers and conduct house-to-house operations which perpetrate these abuses.
AMIHAN peasant women leaders, organizers and members including Leonisa Taray of Bohol, Julie Marcos, Jacquiline Ratin of Cagayan, Nenita Aprecio and Cita Managuelod of Isabela, are victims of series of harassment and vilification of state forces, putting their lives and their families at risk.
Moreover, the Amihan National Office was also targeted by the Duterte regime for issuing a freeze order on its bank accounts through the Anti-Money Laundering Council (AMLC) under Resolution No. TF-38, Series of 2021, pursuant to Section 11 of Republic Act 10168 or the Terrorism Financing and Suppression Act of 2012 on May 5, 2021.
The freeze order included two bank accounts of Amihan along with bank accounts of eight other non-government and civil society organizations based in Mindanao. The resolution was based on the unfounded allegation given by two witnesses claiming to be surrenderees that we are involved in financing the activities of the CPP-NPA.
This is clearly an act of the Duterte government targeting peasant and progressive organizations in an attempt to silence its critiques who have relentlessly been opposing its anti-farmer and anti-people policies which have worsened the poverty and hunger experienced by marginalized sectors gravely especially amid the pandemic.
Amihan is a legitimate organization pushing for genuine agrarian reform, national industrialization and an end to all forms of discrimination against peasant women. For 34 years, Amihan has led and joined campaigns for free land distribution and against land grabbing, production support for farmers and fisher folk, relief and rehabilitation for victims of calamities, food security and self-sufficiency and against militarization and other forms of rights abuses in rural communities, among others.
In this light, we appeal and encourage support, cooperation and collaboration from individuals and organizations in different sectors to the #DefendPeasantWomen campaign. We are sincerely requesting your commitment to:
Join the "#DefendPeasantWomen" campaign on May 8, 2021;
Sponsor and organize a forum discussion in your institution on your preferred dates;
Social media campaign or post a call sign "#DefendPeasantWomen" on your social media accounts and tag our accounts;
Contribute, publish and circulate feature articles, solidarity statements, artworks or any related studies or research about peasant women;
Be a volunteer for the campaign and advocacy work of Amihan and directly join the activities;
Send a letter of appeal to investigate the rights abuses victimizing peasant women directly to the Philippine government and any related institutions;
Provide material and financial support for the campaign .
For details:
Email us at: amihanpeasantwomen@gmail.com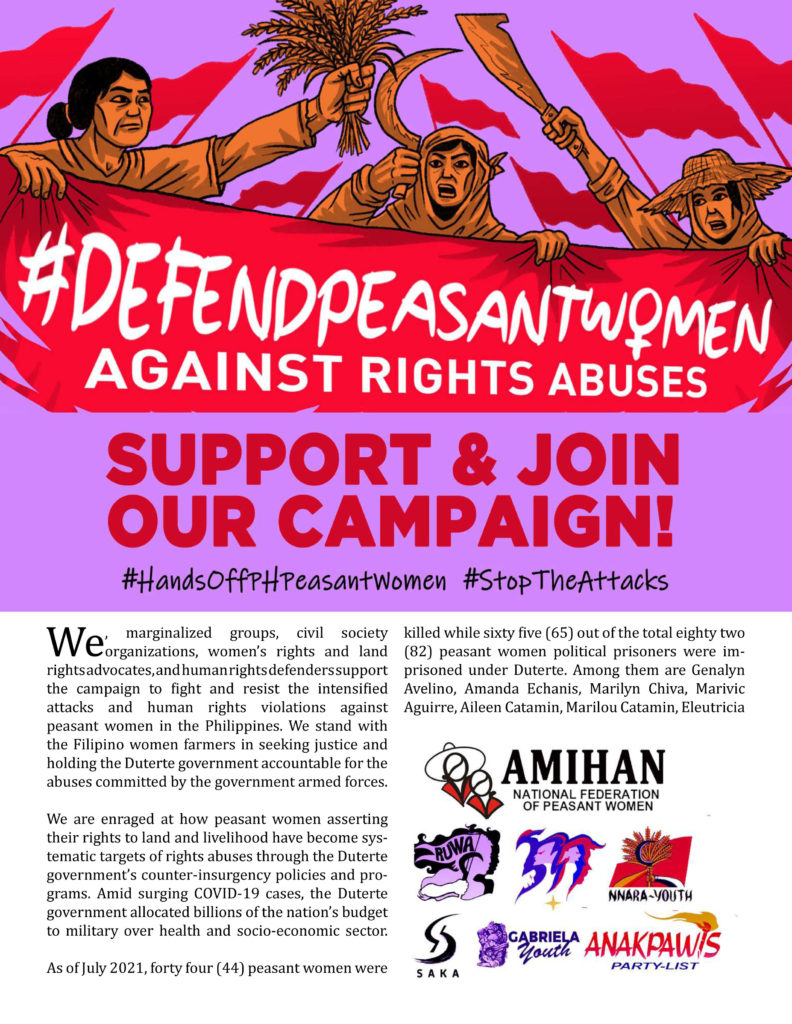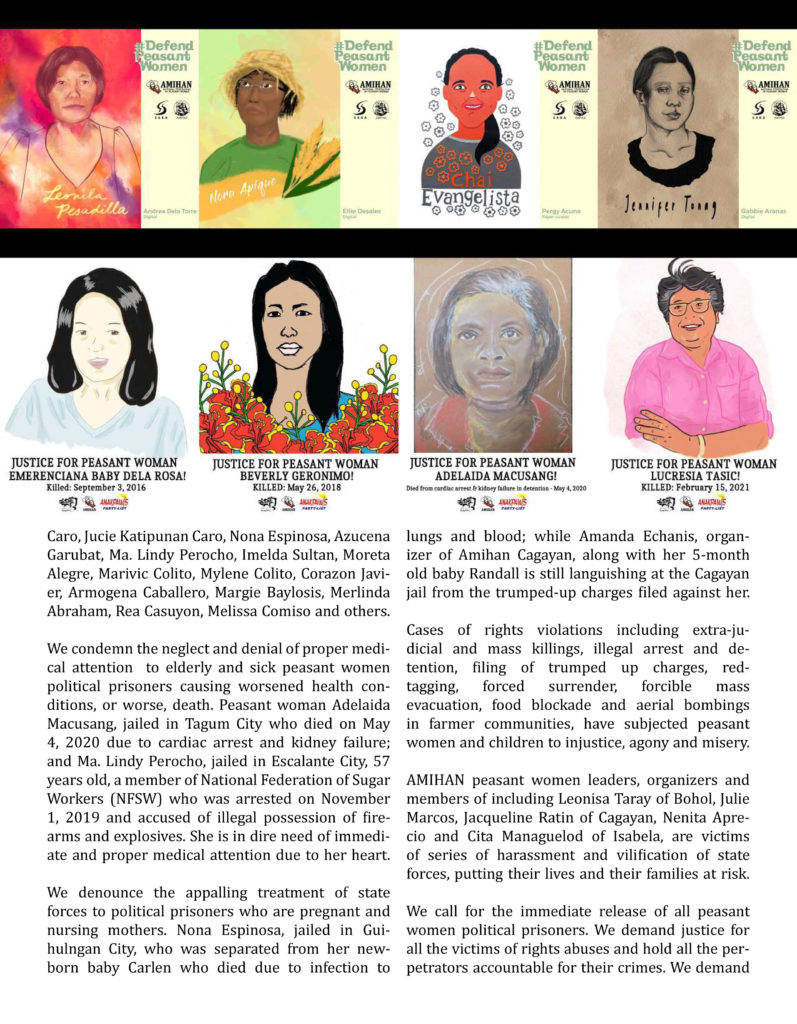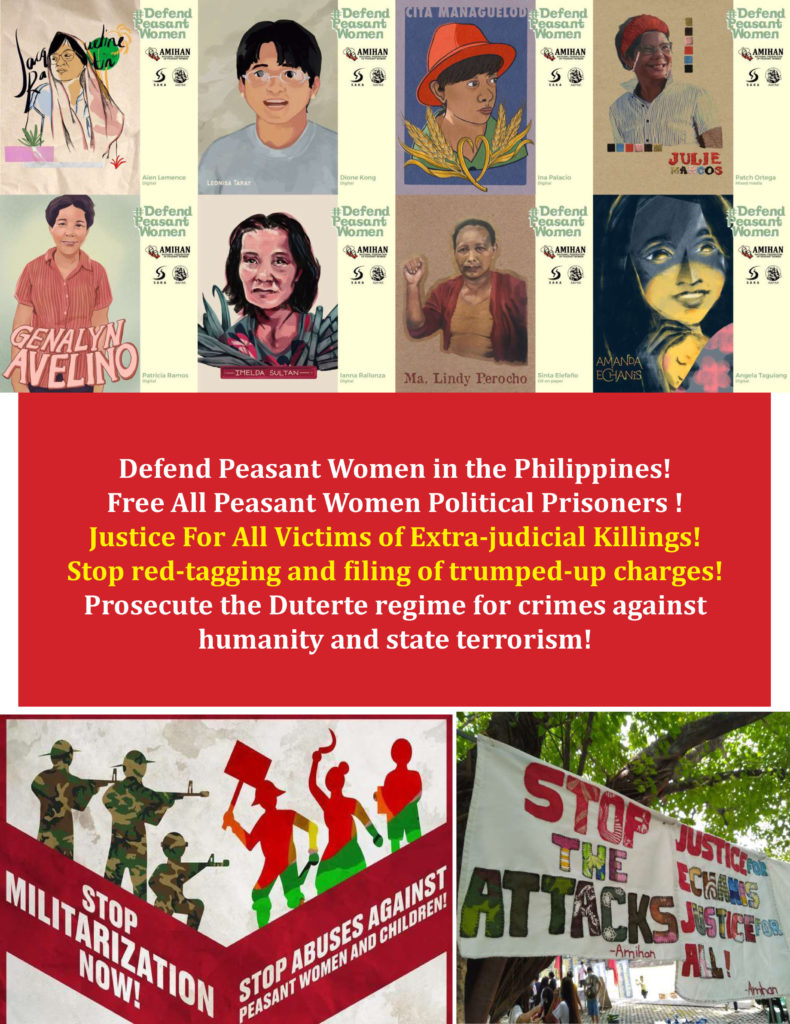 Please follow and like us: