On closing down of lumad schools
Duterte outrightly denies lumad youth their right to education – Amihan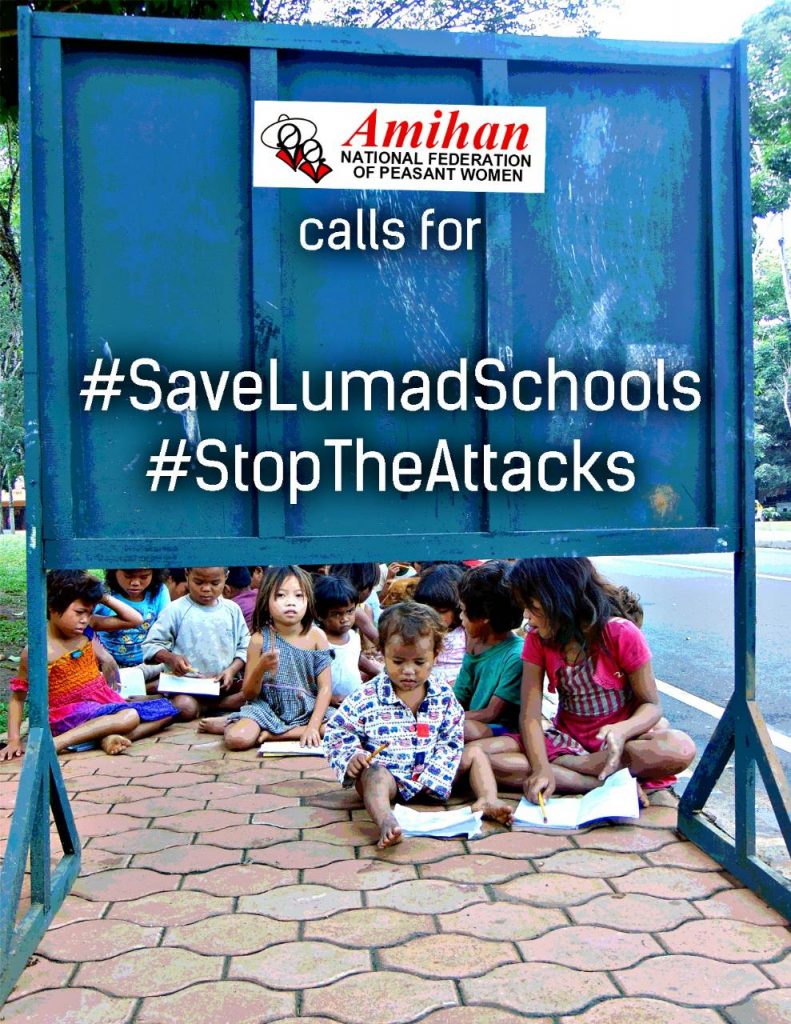 Manila, Philippines – The Amihan or National Federation of Peasant Women condemned Duterte regime for the Department of Education's (DepEd) closing down of 55 lumad schools in Mindanao which the group branded as outright violation of the right to education of lumad youth-students. It also blamed the measure to the martial law rule and whole-of-nation approach to counter-insurgency as provisioned by President Rodrigo Duterte's Executive Order 70 that targets civilian communities and legal-democratic organizations.
"On top of direcly attacking their communities via systematic militarization, killing them and violating their basic rights, Duterte and education secretary Briones now steps on their right to education. This is an admission of their anti-poor and anti-indigenous people agenda. We condemn this act and we urge the people to follow suit and join the call 'Save Lumad Schools,'" Amihan National Chairperson Zenaida Soriano, said in a press statement.
She added that this is very traumatic to the lumad students who are already stopped their schooling and sought refuge in supporting institutions such as the University of the Philippines. Lumad schools were set-up by the communities themselves with the aid of non-government organizations and religious groups.
"While they were already abandoned and neglected by the government that did not provide schools in their communities, they even had the gall to close down their own initiated schools," she said.
Amihan urged the people to hold the Duterte regime for its crime against humanity and amplify the voice of the lumad people. Soriano urged the United Nations (UN) Human Rights Council, the UN Special Rapporteur to Right to Education and the International Criminal Court (ICC) to hold President Duterte accountable.
"Our country is ruled by a tyrant, a mass killer and a criminal against humanity. The people must rise up for the whole world to know, and punish him for his crimes," she ended. ###
Please follow and like us: