Manila, Philippines – The Amihan National Federation of Peasant Women and Free Amanda Echanis Network expressed and urged the people to support the House Resolution No. 1407 filed by Gabriela Women's Party Representative Arlene Brosas directing the lower house to conduct an inquiry, in aid of legislation, on the illegal arrest and detention of Amanda Echanis and her month-old baby Randall Emmanuel in Baggao town, Cagayan province last December 2.

"We call on lawmakers to investigate the obvious illegal and immoral arrest of the 'mother-and-child' Amanda Echanis and her baby, and urge the armed forces to drop the charges and immediately release them on humanitarian grounds. Incarceration is unsafe for both the victims, especially for the baby who totally relies to his breastfeeding mother for nutrition and health. No sane person must accept that they are capable of possessing the planted evidence, involving high-powered firearms and even grenades," Amihan National Chairperson Zenaida Soriano said.
Brosas and lawmakers under the Makabayan bloc filed the house resolution last December 7, 2020 urging the Committee on Human Rights to conduct an investigation, in aid of legislation on the case of Echanis and her child.

Amihan affirmed that Echanis went to the Cagayan province and became a peasant women organizer for its provincial chapter. She was involved in helping the farmers and peasant women on their campaigns for land rights, lowering of land rent, accessing benefits from the tobacco excise tax, gender equality, right to organize, and right to access social services such as relief aid during natural calamities. Prior her arrest, she was involved in the "Kampanya Kontra-Gutom" as collective action against hunger and poverty amid the pandemic and Duterte's militarist measures. Moreover, it is a campaign against the detrimental impact of the RA 11203 Rice Liberalization Law, the recurring drought, and these recent months, the exacerbation of the impact of successive typhoons such as typhoon Ulysses."

Soriano claimed that this case is similar to the cases of peasant women political prisoner across the country who are victims of trumped up charges. Her group is also campaigning for the freedom of peasant women who are currently incarcerated for defending their rights to land and livelihood across the country. It is also working for a resolution to be filed by the Makabayan bloc to call for a house probe and their immediate release. Among incarcerated peasant women who were charged with illegal possession of firearms, ammunitions and explosives are Azucena Garubat, Ma. Lindy Perocho, Imelda Sultan; Moreta Alegre, Marivic Colito, Mylene Colito, Corazon Javier, Armogena Caballero, Geraldine Pelobello, Margie Baylosis, Merlinda Abraham, Rea Casuyon, and Melissa Comiso.

On December 12, 2020, Amihan will join the launching of Free Amanda Echanis Network, a broad alliance for the immediate and unconditional release of Amanda Echanis and her child, at the office compound of Commission on Human Rights in Quezon City. Moreover, the launching will be joined by Amanda's family, friends, former schoolmates, progressive representatives, artists, land rights advocates and others.
"We urge the public to join us in our call and use the hashtag and caption '#FreeAmandaEchanis with her child' and hold Duterte accountable the violation of their basic rights. We must uphold freedom and democracy, and oppose the political persecution of activists, as this will lead to the abuses of all sections of society in our country," ended by Soriano. ###

—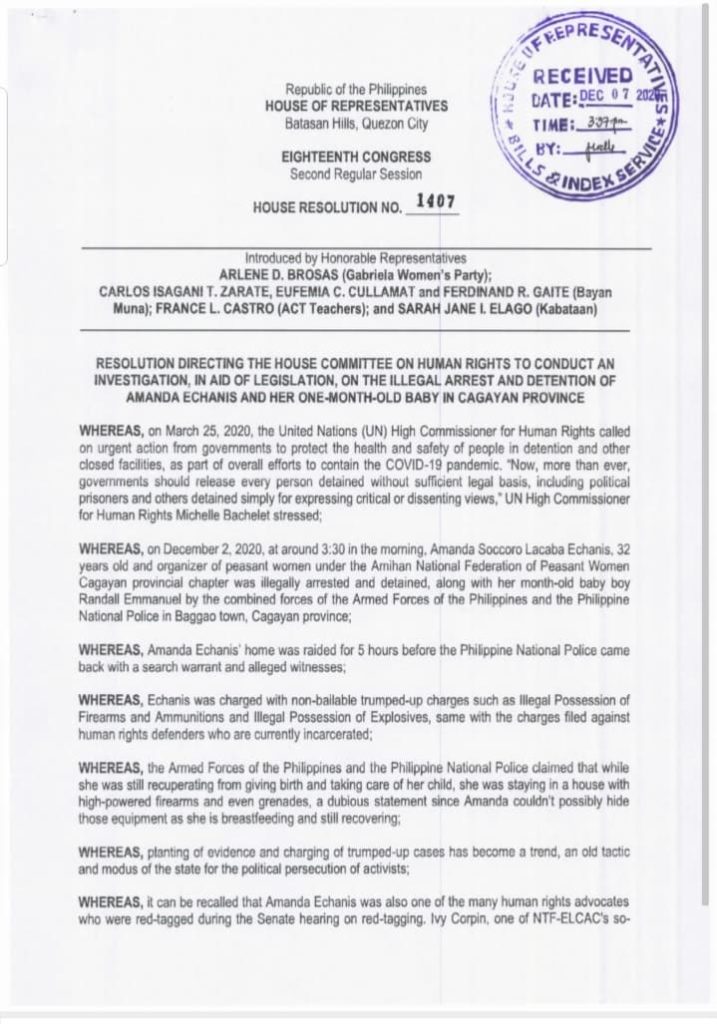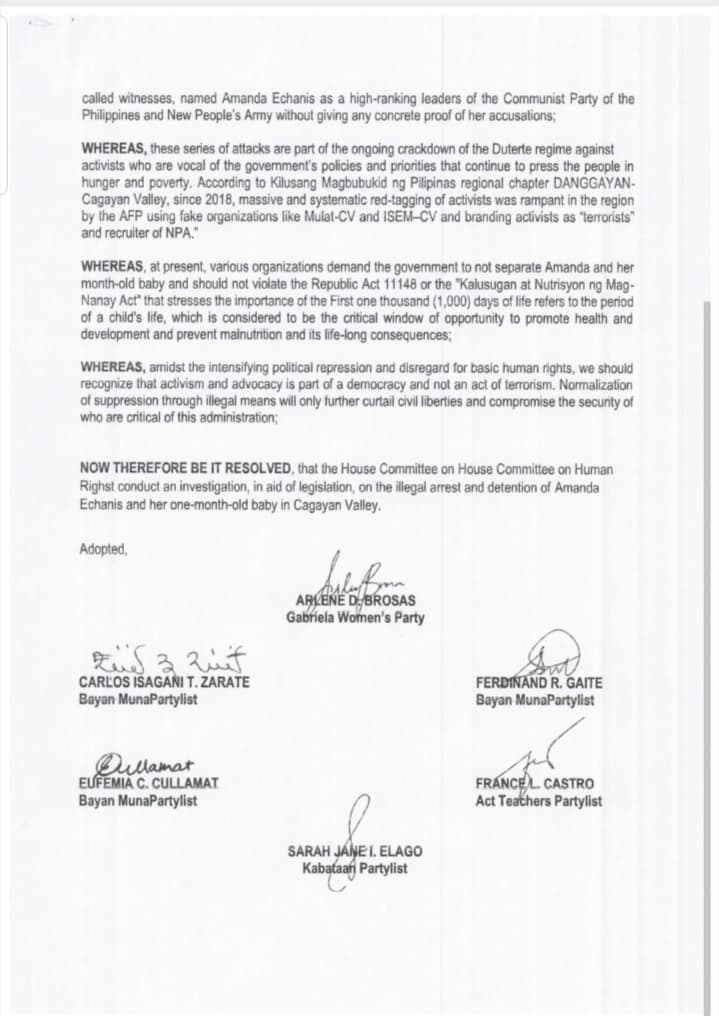 Please follow and like us: